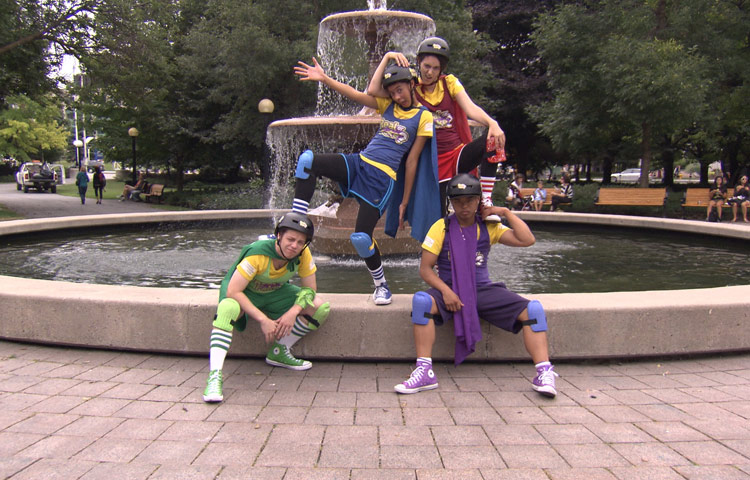 Real or Fake? Webseries Release
NEW NATIONAL GEOGRAPHIC KIDS WEBSERIES REAL OR FAKE?  RELEASED ON PREMIUM SITE
Mountain Road Productions is thrilled to announce the release of REAL OR FAKE?, a National Geographic Kids' game show produced exclusively for the web that hits the streets and asks kids to separate the fact from fiction.
Produced by Mountain Road Productions in association with National Geographic Kids, this hilarious 10-episode webseries features four teenage hosts, Erin, Nina, Norm and Aiden, known as "Seekers" who are on a mission to find the smartest people on the block. Wearing tights, bike helmets and high-top sneakers our caped crusaders (yes they actually wear capes) ambush the unsuspecting public with a series of REAL or FAKE questions. And before you know it, an innocent bystander – on her way to pick up a loaf of bread from the corner store – is now a contestant attempting to make it through two wacky rounds, before entering the final round where she competes with four others to be crowned champion. It's a Pop-Up game show that all happens at the spur of the moment. It's silly. It's nutty. It's a little berserk. And it's a whole lot of fun. But is it REAL or is it FAKE?!
REAL OR FAKE? is now available to stream through Roku and the recently launched Adventure Pass, an online subscription that offers kids access to exclusive content on kids.nationalgeographic.com. The pass serves as an all-access key for kids to explore hours of engaging and educational content in a secure and fun online destination which costs $4.99 per month, $29 for one year or $39 for one year plus a one-year subscription to National Geographic Kids magazine.
This is the first project that Canadian-based Mountain Road Productions has worked on with Nat Geo Kids and the second webseries produced by the company, following TotallyRandom.tv, a skit-comedy webseries intertwined with a digital playground for kids aged 7-11.
"Kids are going to love the crazy antics our hosts get up to as they rope in people who certainly had different plans for their day than to be in an impromptu game show. It was a blast to produce our second kid's series and we are certain it will make everyone who watches laugh out loud" says Executive Producer and Mountain Road founder Tim Alp. 
The webseries is now available to stream on kids.nationalgeographic.com's Premium site in both the U.S. and Canada.
SOCIAL MEDIA LINKS
Twitter: @ROFNatGeoKids / @MRPltd
Facebook:  /ROFNatGeoKids / /MountainRoadProductions
Instagram: /MountainRoadProductions
About Mountain Road Productions Ltd.
Since 1997, Mountain Road Productions has become synonymous with originality and excellence in the television production industry. The company has produced multiple critically-acclaimed and award-winning series, specializing in factual, home renovation, comedy and lifestyle programming. For more about Mountain Road visit mountainroad.ca.
About National Geographic Kids
National Geographic Kids inspires young adventurers to explore the world through award-winning magazines, books, apps, games, toys, videos, events and a website, and is the only kids brand with a world-class scientific organization at its core. National Geographic Kids magazine (10 issues per year) and Little Kids magazine (six issues per year) are photo-driven publications available on newsstands or by subscription in print and on tablets. The award-winning website kids.nationalgeographic.com excites kids about the planet through games; videos; contests; photos; quizzes; and blogs about cultures, animals and destinations. National Geographic Kids Books is the leading nonfiction publisher with 60 titles each year, including The New York Times best-seller "Kids Almanac." National Geographic Kids safely engages kids to learn through digital play in the virtual animal world of Animal Jam. National Geographic Kids apps bring the best of National Geographic Kids to smartphones and tablets.
For more information, please contact:
Margaret Robitaille
Communications Manager
Mountain Road Productions
margaret@mountainroad.ca
613-237-4447