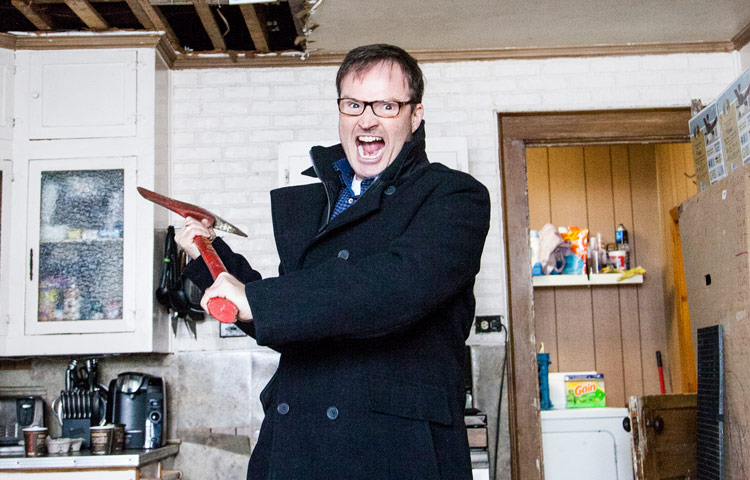 I Wrecked My House Premiere
Put down the duct tape and back away slowly! Laser-witted comedian Steve Patterson hosts HGTV Canada's newest home renovation show, guaranteed to combine laughs with spectacular home transformations. The 14-episode series, I Wrecked My House, premieres April 28 with back-to-back episodes at 10pm ET/PT on HGTV Canada.
Patterson meets the country's worst home renovators as they show him their ridiculous – and sometimes ingenious – attempts to repair their homes. The result is nothing short of appalling: missing load-bearing walls, plumbing fixed with duct tape, cabinets built in front of windows and lots of spray foam that's actually keeping some houses from collapsing.
But this is a rescue mission. All of the homeowners get a phenomenal renovation led by award-winning contractor Dave Rannala and his talented reno team, which includes top-notch carpenters (and prank-loving brothers) Andrew and Matt Carson.
You need a license to drive a car but you don't need a license to own a home. I Wrecked My House hits home that point by featuring homeowners who have quite literally wrecked their houses.
"We've searched high and low for the unhandiest homeowners with a knack for the eccentric and the ability to cause more damage than fixes," says Tim Alp, Executive Producer, Mountain Road Productions. "Though they were well-meaning, it's actually a wonder how some of their houses are still standing."
New episodes will air Tuesdays at 10pm ET/PT, followed by an encore episode from the previous week at 10:30pm ET/PT.
Steve Patterson is a three-time Best Comic award-winner, best known for the wildly successful radio show, The Debaters and comic juggernaut, Just for Laughs. He has just launched a new comedy tour, I Laugh Therefore I Think.
SOCIAL MEDIA LINKS FOR #IWRECKEDMYHOUSE
Twitter: @HGTVCanada / @IWreckedMyHouse
Facebook: Facebook.com/HGTV.ca  / Facebook.com/IWreckedMyHouse
HGTV Canada is a Shaw Media Network.
About Shaw Communications
Shaw Communications Inc. is a diversified communications and media company. Shaw serves 3.2 million consumers and businesses through a reliable and extensive fibre network. Shaw provides consumers with broadband Internet, WiFi, Digital Phone and Video services. Shaw Business provides businesses with Internet, data, WiFi, telephony, Video and fleet tracking services, and ViaWest provides collocation, cloud and managed services. Shaw Media provides Canadians with engaging programming content through one of Canada's largest conventional television networks, Global Television, and 19 specialty networks, including HGTV Canada, Food Network Canada, HISTORY® and Showcase. Shaw is traded on the Toronto and New York stock exchanges and is included in the S&P/TSX 60 Index (Symbol: TSX – SJR.B, NYSE – SJR). For more information about Shaw, please visit www.shaw.ca.
About Mountain Road Productions Ltd.
Since 1997, Mountain Road Productions has become synonymous with originality and excellence in the television production industry. The company has produced multiple critically-acclaimed and award-winning series, specializing in factual, home renovation, comedy and lifestyle programming. For more about Mountain Road visit www.mountainroad.ca. 
For media inquiries, please contact:
Margaret Robitaille
Communications Manager
Mountain Road Productions
613-237-4447
margaret@mountainroad.ca
Cathy Kurzbock
Publicity Manager, HGTV Canada
Shaw Media
416-966-7507
cathy.kurzbock@shawmedia.ca