Adaptable Animals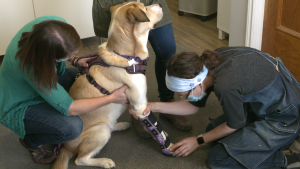 Adaptable Animals is an inspirational look into the world of animals with disabilities. Not long-ago animals with damaged limbs had a very difficult life, but with the advances in veterinary medicine, based on human kinetics, these animals now have a greater opportunity to live a more fulfilling life. In humans an orthotic or prosthetic device can be incredibly rehabilitating both physically and emotionally and animals can experience similar effects. Around the world there are only a handful of people who specialize in this area, and one of them is right here in Canada. Her name is Janice Olynich. Janice, a Certified Prosthetist with an honours degree in Kinesiology, fits clients like dogs and cats as well as other animals with custom prosthetic and orthotics device that she hand-crafts at her clinic in Toronto.
In each half-hour episode, we'll profile four different animals. We'll meet their owners and find out all about the animal's life and what happened to them that led to their owners considering an orthotic or prosthetic device. The transformation can be quite immediate for some animals and take much longer for others, but ultimately these animals gain a greater range of mobility and a much more fulfilling and happy life. And with a happy animal comes a happy owner! Adaptable Animals empowers and enlightens the human spirit as we profile amazing creatures and their will to live normal lives with the help and guiding hand of Janice Olynich.
Adaptable Animals premieres March 23rd, 2022 at 8pm Eastern on AMI-tv.